Get Involved
Donate, Volunteer, Request a Sign and More!
Your Support Goes A Long Way
Running an election campaign takes a lot of resources. To support George's bid to continue to serve as a member of town council, there are several ways to get involved.
Below you can make a donation, stay informed with email alerts, find upcoming events and reminders about when to vote. You can also scroll below to follow George on social media or fill in the contact form at the bottom of the page to indicate your interest in volunteering or requesting a sign.
The maximum donation to an individual is $1,200. All donations that reach or exceed $25 must be made by e-transfer or cheque in order to clearly show where the funds originated. Personal cheques only – no corporate cheques as outlined under the Ontario election guidelines.
For those who are interested in supporting my re-election campaign financially and/or by volunteering or displaying a sign on your property, I am very grateful. You are welcome to click on the "Donate Now" button below to start the donation process. NOTE: Donation payment options are e-transfer or a personal cheque made out to "George Watson Election Campaign" and mailed to the address provided (599 Mosely Street, Wasaga Beach, ON, L9Z-2J2).
Thank you in advance for your support.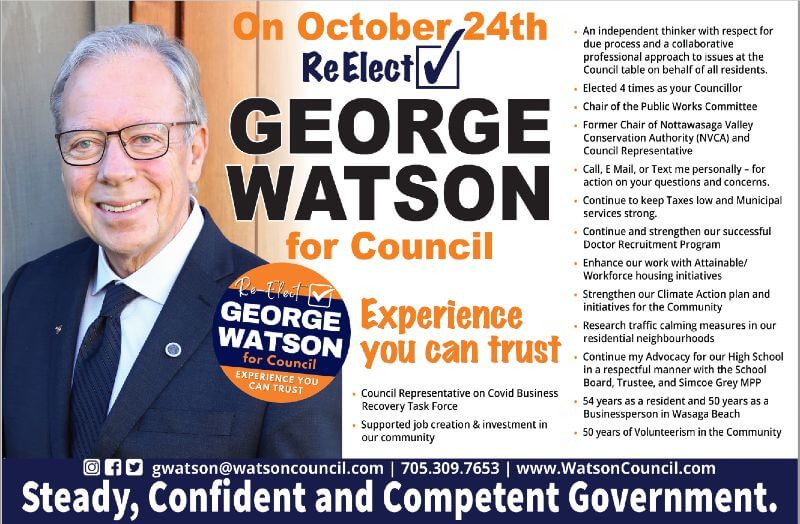 Sept. 28th to Oct. 2nd 2022 | 932 Mosley Street, Wasaga Beach
Meet The Candidate Events
WHAT: Meet The Candidate Event – George Watson, Councillor For Wasaga Beach.
WHERE: 932 Mosley Street, Wasaga Beach
WHEN (Multiple Dates):
–>Sept 28th – 12 to 2pm
–>Sept 29th – 1:30 to 3:30pm
–>Sept 30th – 10 to 12pm
–>Oct 1st – 12 to 2pm
–>Oct 2nd – 12 to 2pm
Looking forward to seeing you there!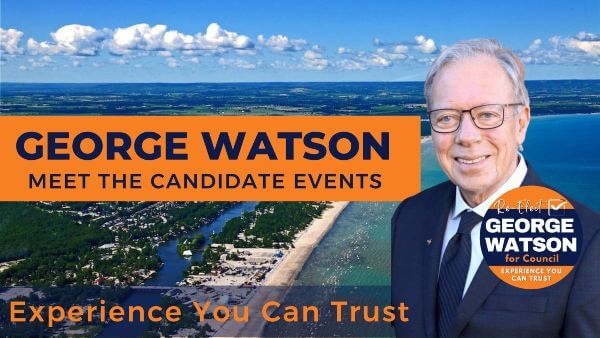 October 3rd to 24th 2022 | Vote From Your Device
Internet Voting Period
Internet voting opens on Monday, October 3rd, 2022 at 10am and runs continuously until close of voting on Election Day, Monday, October 24th, 2022 at 8pm.
Internet Voting Help Centres are locations that voters can visit during the Internet Voting Period indicated above to access electronic devices to case their vote and/or receive assistance with internet voting. Voters may attend with a support person, taking the appropriate oath(s), and having a support person assist with voting using an available device.
For more information, visit: https://www.wasagabeach.com/en/town-and-government/elections.aspx
Various Dates in October 2022 | In-Person At Various Locations in Wasaga Beach
Paper Ballots With Tabulators Voting Opportunities
–>Town Hall: Wednesday October 12th, 2022 from 10am to 3pm
–>Council Chambers: Friday, October 21st, 2022 from 10am to 3pm
–>RecPlex Hall: Saturday, October 15th, 2022 from 10am to 3pm & Wednesday, October 19th, 2022 from 10am to 7pm
Volunteer, Request A Sign, Or Host An Event!
There are so many things to do on the campaign trail like setting up signs, taking down signs, distributing campaign materials such as buttons, doorhangers, postcards as well as other ways of spreading the word. Fill in the form below to indicate your interest. I'm looking forward to hearing from you and thank you in advance for your time.