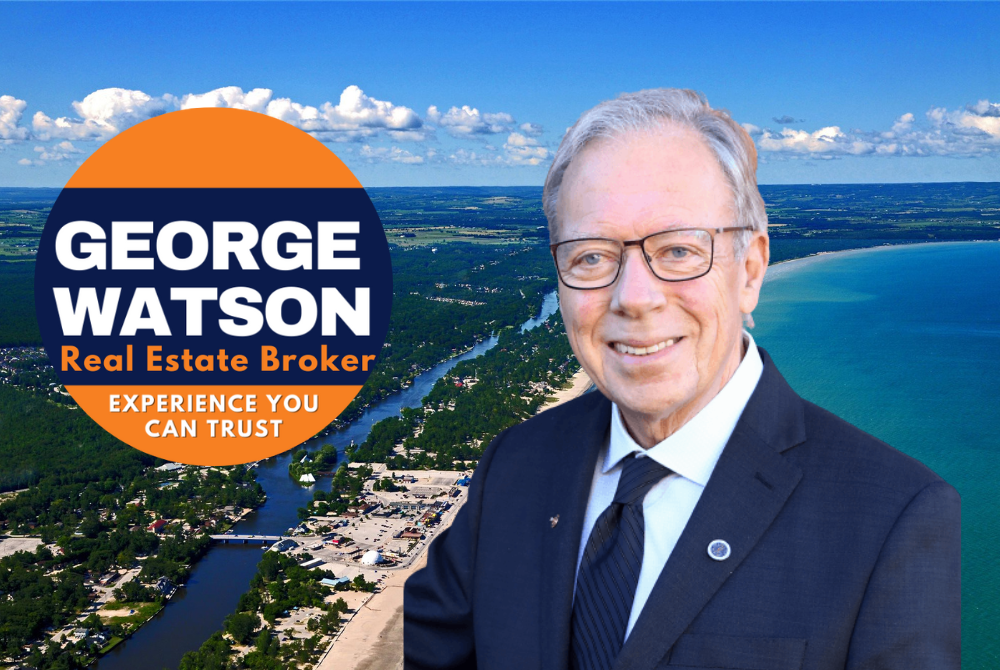 An Interview with The Historical Society
On behalf of the Wasaga Beach Historical Advisory committee, I was requested to interview one of our current council members, GEORGE WATSON.  In the few times I had the opportunity to talk with George, I personally found him a delightful person, and me being a newcomer to the beach area, only 20 years, I really looked forward to this interview.
Originally George's Grandparents (mother's side) had settled in Toronto, but his grandparents (father's side) settled in the Eastern part of the province. In time, his Grandparents and all the extended families started to visit Wasaga Beach for their holidays just after the second world war and continued doing that until his Grandparents from Toronto decided to move permanently to the Beach Area in 1960.
George was born in 1951 and always enjoyed his visits to Wasaga Beach. All of his aunts, uncles, cousins, as well as all of their families eventually joined holidaying in Wasaga Beach for many years. They would always rent a cottage or two at the Main Beach area from a gentleman by the name of Nelson McLeod who operated a cottage resort called Braemar Cottages.
George was born in Toronto and went to school there until Grade 11. Eventually his parents moved to Wasaga Beach in 1968. At that time, he attended Collingwood Collegiate to complete his Grade 12 and 13, followed by post-secondary studies at York University. He told me that he has a lifetime of wonderful memories from Wasaga Beach and he looks back on swimming in Georgian Bay, playing in the sand, boating and fishing, snowmobiling, skiing and so much more. With a smile on his face I could really see he enjoyed his youth living at the Beach.
One of the highlights of his teenage years was obtaining his driver's license and driving on the beachfront (it was allowed at that time). He would drive from Main Street all the way to 45th Street and beyond at times. He remembers parking at the edge of the water and laying on the hood of his car while studying for Grade 12 and 13 exams in June and taking breaks for a quick dip in the water. But sadly in 1973 the province ended the ability to drive on the beach, but it was sure fun while it lasted.
George mentioned that he had been in Wasaga every year of his life starting with family vacations, and then visiting his grandparents who lived here since 1960 and later as a resident in 1968 when he was 16 years old. He married and raised 4 children in Wasaga Beach. They all attended Wasaga Beach elementary schools and completed high school in Collingwood. He feels that he has been very fortunate to have spent his entire working career of 50 years in Wasaga Beach as a self-employed person as well as an employer. For all these reasons and more he tells me that he has enjoyed his 54 years as a full-time resident and has no plans to live anywhere else.
In 1970's, Wasaga Beach went through "Troubled Times".  Resentment toward the province continued regarding the issue of expropriation of properties along the length of Wasaga. He mentioned, some people at Wasaga thought the province was doing the right thing. Two conflicting points of view came head-to-head in a two-way race for mayor during a 1973 election campaign. This was the time George became really interested in politics and ran for Mayor against Clair Robertson ("The  Reeve"). "Mr. Robertson won that election. But given that he had already been The Reeve for 4 years and considering Watson was a newcomer to local politics, and only 22, his win may not have been fully indicative of majority opinion".  (Quote from Wasaga Saga by Thelma Morrison ). At 22 George was already in business for himself. The owner of the company he worked for (a Real Estate Broker) had been Reeve of Wasaga Beach for 5 years, until 1971, and George's passion for politics was born. This was George's campaign picture.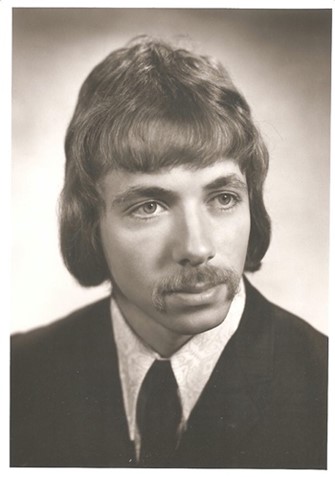 In 1981, Arena Manager Peter Dunbar & Council were trying to come up with ideas for fundraising to help the Wasaga Stars Arena. The idea of a live "Wintario Show" was discussed. A committee was formed consisting of George Watson, Randy Timlock, Peter Dunbar and Dennis Wilson (picture below). The Committee worked together to make the project a reality. For their part in hosting the show, the town received a grant of $24,000 to buy a portable floor to cover the ice at the arena.
The show was aired on April 29, 1982, with a huge crowd and tremendous media exposure for Wasaga Beach.
Below are two pictures from the book, Sharing Memories-Stories of Wasaga's Past written by Mary Watson.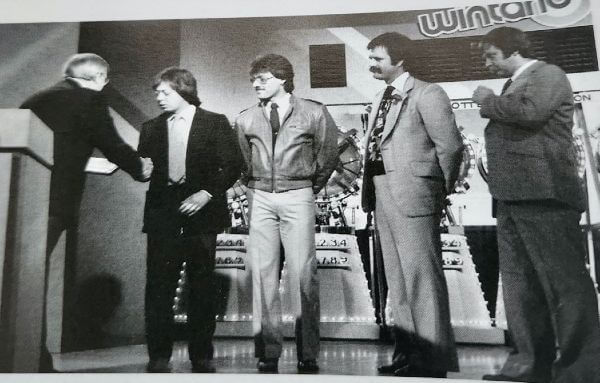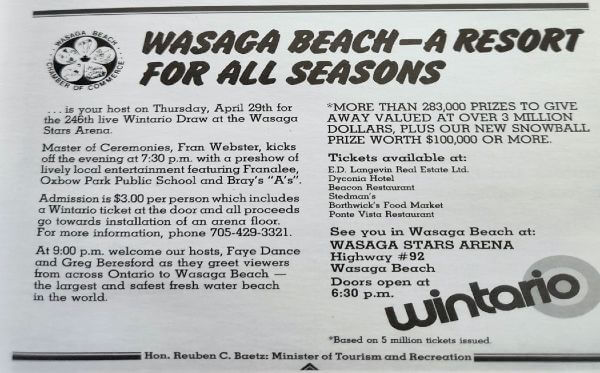 There has been a tremendous amount of change in Wasaga Beach over George's 54 years. The ratio of seasonal owners compared to year-round residents in the late 60's was approximately three-quarters to one-quarter (for the seasonals).  After Labour Day the streets were "rolled up" so to speak until Victoria Day weekend the following year. That ratio has reversed itself over the years and Wasaga Beach is a thriving and bustling year-round community of families, retirees, and entrepreneurs with a tourism element that continues to flourish.
Below on the right of this picture, the three people are George with his mother (Jacqueline, Dark swimsuit) and Aunt Stella.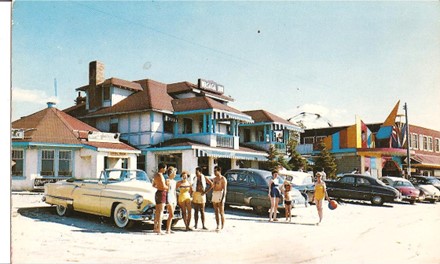 George reminded me that there have been two wonderful books written about the history of Wasaga Beach. The first one was written by Thelma Morrison, "A History of Wasaga Beach" and a second written by Mary Watson, "Sharing Memories".  Both books, I used as a reference and were helpful to complete my interview with George.
I would like to thank George for his time and dedication to this wonderful town of Wasaga Beach.
The Wasaga Beach Historical Advisory Committee