VOTE GEORGE WATSON –
Councillor for Wasaga Beach
Hello, I am
George Watson
I am a local business man and full time resident in Wasaga Beach for 50 years. I attended Collingwood Collegiate and studied at York University.  I have a collaborative, resolution based approach to problem solving; with an experienced, respectful attitude for due process, delivered in an accountable, open, and transparent manner for all residents of Wasaga Beach.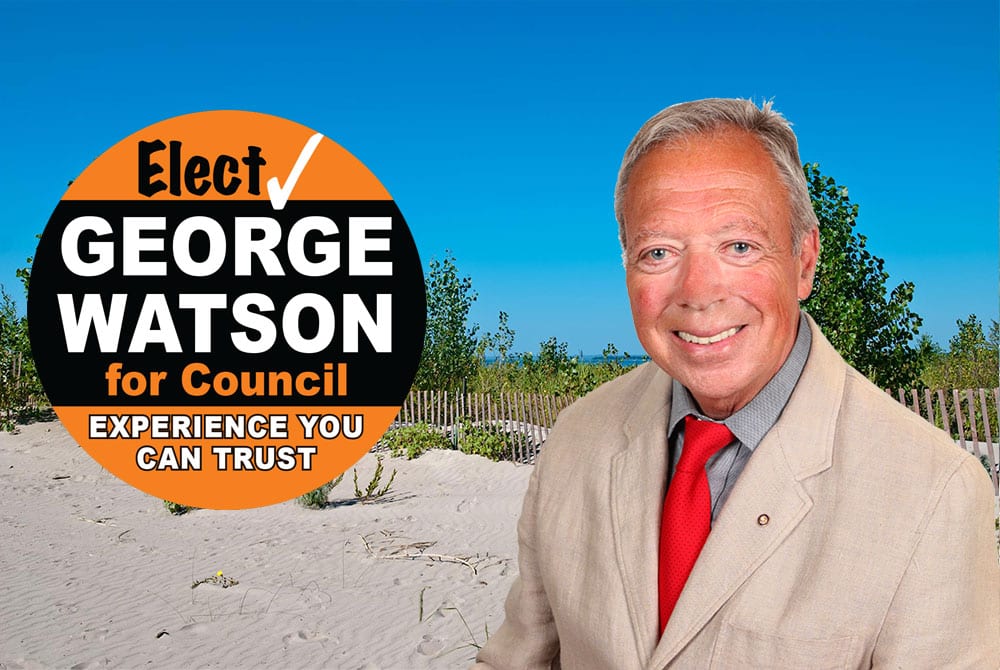 I embrace local change and growth; believing we must respect and engage all Wasaga Beach residents.
Learn more about George Watson's professional career and volunteer work.
Make sure you are on the voter list, and are eligible to vote in the 2018 Municipal and School Board elections.
Get all important 2018 election dates and relevant information for online and phone voting.
Please contact me by email and ask the tough questions: Where do I stand on the issues that concern you the most?
Meet the Candidate George Watson at Studs Lonigans – 168 Main street Wasaga Beach.
4:00pm to 5:30pm – Wednesday Oct 10th, 2018
George's Promise
I shall continue supporting our rapidly growing community by;
Ensuring local tax dollars are invested and spent wisely;
Prioritizing a review of the operational responsibilities of all current Wasaga Beach Boards and Committees;
Directing staff to aggressively market Wasaga Beach as a four seasons tourism destination;
Continuing, as I have done since 2001, to constructively advocate to provincial and education authorities for construction of a high school in Wasaga Beach;
Continue the expansion of our local transportation and develop trails and bike lanes through the entire community;
Encouraging the development of mixed housing neighbourhoods with a variety of affordable options;
Researching issues and speaking independently, while respectfully responding, in a civil manner, the views of council colleagues and the general public.